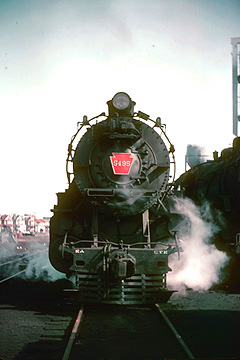 Photo of the Week

Location:Springfield, IL
Description:
A long view of the terminal showing the glory days...
(more)
Latest Update
A continuation of a 1955 trip to St.Louis from Springfield for the only time John ever saw this amazing RR-the Illinois Terminal-the "Pacific Electric of the Midwest"
GodFatherRails
Now with 2402 photos online!
Welcome to the online home for the prodigious railroad photojournalism of John Dziobko, Jr.
He took his first photos in 1948. By July 1950 John was shooting Kodachrome slides while the medium stayed mostly black and white.
He traveled the globe in search of vanishing steam locomotives and their colorful replacements. Those old images live on here.
Still a young railfan in his 80's, John thanks you for your interest in his life's work. To purchase prints, cards, and accessories featuring his classic railroad images, click
here
Most recent photos added...
Mailing List