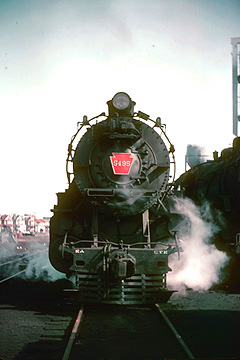 Photo of the Week

Location:Kouts, IN
Description:
At Kouts we cross the Erie mainline for the first ...
(more)
Latest Update
Ride the South Wind with us from 1962 and check out the views from the back window to Indianapolis...
GodFatherRails
Now with 2471 photos online!
Welcome to the online home for the prodigious railroad photojournalism of John Dziobko, Jr.
He took his first photos in 1948. By July 1950 John was shooting Kodachrome slides while the medium stayed mostly black and white for another decade. "I see trains in color, that's how I wanted to preserve them!", John was once heard to exclaim.
Later, he traveled the globe in search of vanishing steam locomotives and their colorful replacements. Those old images live on here.
Sadly, John passed on August 5, 2022 in Madison, WI., his home for the last five years. His loved ones were with him at his passing. His slide collection is intact and will be made available to future generations of railfans to see. To purchase prints, cards, and accessories featuring his classic railroad images, click
here
Most recent photos added...
Mailing List